This is one of those questions that has two different answers.
How many feet need to be in bounds in college football?
In college, a receiver only needs to have one foot in bounds in order for the catch to count.
How many feet need to be in bounds in the NFL?
In professional, football  a receiver is required to have both feet in bounds. That's why they sometimes look funny when they are making a catch trying to drag both of their toes in bounds before they fall out of bounds!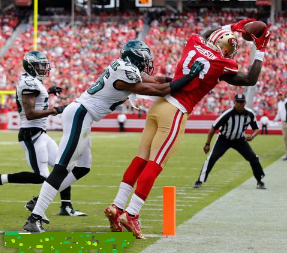 But here are a couple of more facts to help you look smarter than the rest.
If a receiver in professional football is pushed out of bounds by the defense prior to getting both feet in, the referee can make the call that he would have come down in bounds and give him the catch. In college football, this is not the case.
Although the rule is 'two feet in bounds' for professional football to be a catch, it can also be any other body part (other than hands) to be considered in bounds. So, if a receiver in professional football jumps up and makes the catch and falls on his butt before going out of bounds and neither of his feet touch, that would also be considered a catch.

Related Articles:
Meaning of Football Jersey Numbers
Excessive Celebration Penalty