College Football Games of the week:
There is only one game between two ranked teams so I usually like to say that is the 'game of the week'.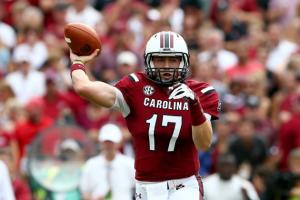 UCLA(#15) vs Arizona State (#16) – both are PAC-12 teams ranked 3-0 so far but neither has beaten anyone special yet. They will walk away with one of the teams 3-1 and the other 4-0. It's your best guess which one will win. UCLA came into the season with high expectations, maybe they'll be the victor…or not.
However, there are several conference games that are really important and could have huge consequences. After 4 weeks of very few games that matter or were shocking, this week has the potential for many teams with high expectations failing to meet those expectations.  These include:
FSU (#4) vs NC State -a battle between two undefeated ACC teams. FSU, the reigning national champion takes on a pretty good looking Wolfpack. I anticipate FSU being the victor, especially with Jameis Winston back in the lineup after being forced to sit out last week.
Texas A&M vs Arkansas – This is a big game for A&M who is still undefeated but Arkansas lost their opener to Auburn.
South Carolina vs Missouri – Another big SEC match-up and the host of ESPN's College Gameday (a topic that comes up in conversation all the time that you can look like the star by knowing). Although Missouri has the chance of raining on South Carolina's parade, this game is the Gamecocks to lose. After their big win over Georgia, they need to keep the momentum going if they hope to erase their season opening loss to Texas A&M.
Stanford vs Washington – a big PAC-12 matchup between the ranked but not unbeaten Stanford Cardinal (yes, it is supposed to be singular, one of the very few college mascots that are not plural) and Washington who is undefeated but hasn't played anyone. Stanford will win this game but don't trust me, my picks this season have stunk….badly!
Where is ESPN College Gameday this week?
ESPN College Gameday is this week is Columbia, South Carolina for the South Carolina vs Missouri game. Both teams are SEC teams currently 3-1 for the season.
College Football Conversation Starters
Here are a few topics you can toss out to get the conversation going at your weekend social activities. You'll never know where these topics will lead or who you will impress.
How will Jameis Winston (FSU Quarterback) do this week after being forced to sit out last week due to his on-campus indiscretions?
Should the former FSU Seminoles nickname of the Criminoles be reinstated or is that just too harsh?
I have the over/under of the number of times Spurrier throws his visor while playing Missouri at 3? You?
Lots of news this week about the somewhat controversial hire of Lane Kiffin by Alabama. The head coach, Nick Saban, tired of being challenged by the decision to hire him as the offensive coordinator, is now being looked at as "Nick Saban is a genius" attitude.
A couple of early Heisman names in the running are Marcus Mariota (QB-Oregon), Brian Gurley (RB-Georgia), and Amari Cooper (WR-Alabama). Do you like any of these? Who's your guy